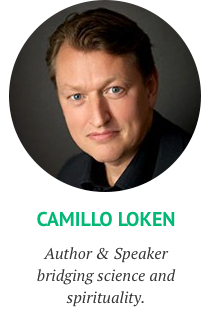 The story below is based on a true story. It´s about 4 year old girl called Meredith who lost her dog and wrote a letter to God. The story is written by Meredith's mother.
—————————————-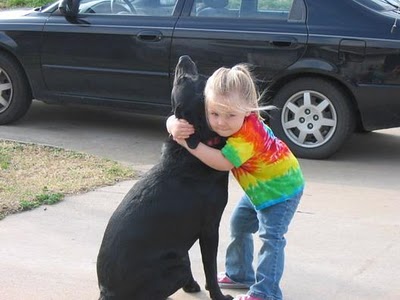 There is a kind soul working in the dead letter office of the U.S. Postal Service somewhere…
Our 14 year old dog, Abbey, died last month. The day after she died, my 4-year-old daughter Meredith was crying and talking about how much she missed Abbey. She asked if we could write a letter to God, so that when Abbey got to heaven, God would recognize her. I told her that I thought we could, so she dictated these words:
Dear God,
Will you please take care of my dog? She died yesterday and is with you in heaven. I miss her very much. I am happy that you let me have her as my dog even though she got sick. I hope you will play with her. She likes to play with balls and to swim. I am sending a picture of her so when you see her you will know that she is my dog. I really miss her.
Love, Meredith.
…………………………………………….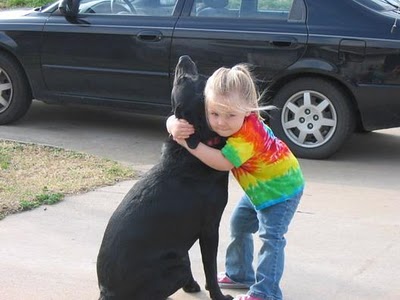 We put the letter in an envelope with a picture of Abbey and Meredith and addressed it to: God in Heaven. We put our return address on it. Then Meredith pasted several stamps on the front of the envelope because she said it would take lots of stamps to get the letter all the way to heaven. That afternoon she dropped it into the letter box at the post office.
A few days later, she asked if God had gotten the letter yet. I told her that I thought He had. Yesterday there was a package wrapped in gold paper on our front porch addressed, "To Meredith" in an unfamiliar hand.
Meredith opened it. Inside was a book by Mr. Rogers, titled, "When a Pet Dies." Taped to the inside front cover was the letter we had written to God in its opened envelope. On the opposite page was the picture of Abbey & Meredith and this note:
Dear Meredith,
Abbey arrived safely in heaven. Having the picture was a big help. I recognized Abbey right away. Abbey isn't sick anymore. Her spirit is here with me just like it stays in your heart. Abbey loved being your dog. Since we don't need our bodies in heaven, I don't have any pockets to keep your picture in, so I am sending it back to you in this little book for you to keep and have something to remember Abbey by.
Thank you for the beautiful letter and thank your mother for helping you write it and sending it to me. What a wonderful mother you have. I picked her especially for you. I send my blessings every day and remember that I love you very much. By the way, I am wherever there is love.
"Love, God"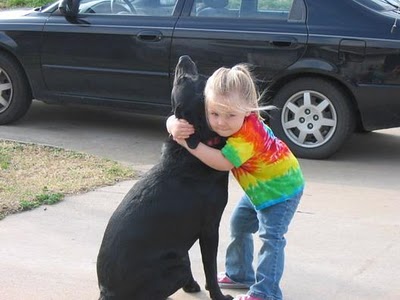 ORIGINS – TRUE STORY:
Since October 2006 this story has appeared under a variety of titles, including "Going Postal," "Angels at the Post Office," "Angels Turn Up In Unexpected Places," and "This is a US Postal Service Story."
According to Cary Clack of the San Antonio Express-News, the tale is real. In mid-August 2006, the San Antonio family of Greg and Joy Scrivener and their three children suffered the loss of Abbey, their 14-year-old black and white dog.
Driven by concern for their pet's future welfare, 4-year-old Meredith, the Scriveners' middle child, dictated the note quoted above to her mother, then enclosed it and two photos of the family dog in an envelope addressed "To: God in Heaven."
This envelope, bearing the family's return address, was dropped into a mailbox at the Brook Hollow post office.
Two weeks later, the Scriveners found on their front porch a package wrapped in gold-colored paper and addressed "To: Mer." In the parcel, along with the letter from "God" quoted above, was a book by Fred Rogers (of TV's Mr. Rogers' Neighborhood fame), When a Pet Dies (a book that "helps children share feelings of the loss of a pet while offering reassurance that grieving is a natural, healing thing to do").
According to her mother, Meredith was comforted by the book and letter and was unastounded that God saw fit to write back. "She wasn't surprised because she had such faith that her letter was going to get to God." (The oldest of the Scrivener children, 6-year-old Andy, was impressed, though: He "thought it was pretty special his sister got a book from the angel," says his mum.)
While Mrs. Scrivener considered asking at the post office about the package, she decided against it. "I kind of like not knowing," she said. "I don't know who took the time to do it, but it was an angel. We all think about doing these things, but no one takes the time to do it."
However, even true tales become subject to embellishment when circulated on the Internet. Often accompanying the online version is a photograph of a little blonde girl hugging a black Labrador retriever, yet it is not a photo of the actual child and dog from the story.
Instead, some unknown person in search of a "little girl and her dog" picture copied it from a website belonging to an unrelated family. The child in the misattributed photo's actual name is Isabelle and the dog's name is Sara.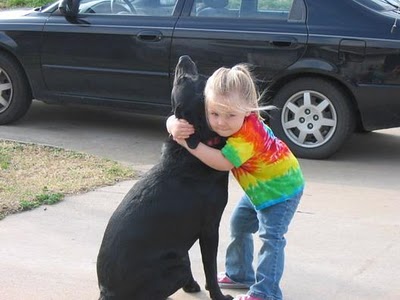 The reason I´m sharing this story with you is to show you the power of faith and intention. When you truly believe in something the impossible can turn into the possible. Your body, mind and soul "melt together" to create a strong vibrational signal to the quantum field and the quantum field responds (synchronicity).
In the 5 Steps To Master Your Life Program the first step is all about The Power Of Intention. It´s now proven in scientific studies that intention can alter physical reality.